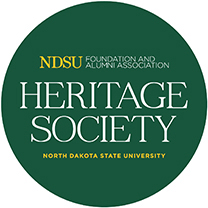 The Heritage Society recognizes those who have made a planned gift commitment to invest in the future of NDSU. These may include bequests in a will or trust, designated beneficiary from an IRA, gift annuities, or gifts of life insurance.

As a Heritage Society member, you join a distinguished group of people who share a common vision for the future of NDSU and believe in its mission.

Informing us of your plans is important for several reasons. We want to ensure that we honor your intentions for your gift and the impact you wish to make for NDSU. We also want the opportunity to thank you for your commitment to the future of the university, and we hope this will inspire others to do the same.

The principal benefit of membership is the satisfaction of supporting the students, faculty, and staff at NDSU as it maintains a leadership role in higher education. The critical support of our membership provides the University an extra measure of strength and flexibility.

When you become a member of the Heritage Society, you will be invited to special productions on campus, annual recognition dinners, and you will receive special publications.

Please let us know if you request anonymity.
Contact us
If you have any questions about the Heritage Society, please
contact us
. We would be happy to assist you.