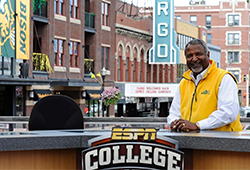 During his 34 years as a North Dakota State University employee, administrator, and leader, former Vice President for Student Affairs, Prakash Mathew '76, had one mission, serve NDSU students.
"I feel very strongly about this philosophically because the only reason a university exists is for the students," Prakash says. "Students should and must be the central focus of everything that we do at a university. Without the students, there's no university."
Prakash's belief in servant leadership shaped his tenure at NDSU. Student-focused, he says, had to be more than lip service. Everyone, alumni included, has a role to play in building and strengthening the Bison family. During his more than three decades at NDSU, Prakash says the needs of students shifted as time passed, and he knew he had to change in order to best serve them.
Today, students continue to change, and as the cost of higher education continues to increase, Prakash challenges all alumni, in a gracious way, to invest in future NDSU students through scholarships.
"My late wife and I started a scholarship at NDSU that is for a freshman student coming to NDSU – not designated to a specific category because we wanted to give flexibility for the admission staff and enrollment management staff to recruit accordingly," Prakash says.
By giving enrollment management and admission departments flexibility for the award of the Prakash and Sandy Mathew scholarship, they created ample opportunity for NDSU to compete in recruiting new students.
"People talk about all of the great things happening at NDSU, which is wonderful. I also go and brag about all of that. At the same time, the people need to know how important the recruitment process is," Prakash says. "We can't match what other universities are doing with scholarship and financial help. We need alumni and friends of NDSU to help in terms of scholarships."
Prakash understands giving potential is different for everyone. Since Sandy's passing, he has established a bequest through the NDSU Foundation in support of their scholarship fund. Through planned giving, he's ensuring his service to future NDSU students continues in perpetuity.