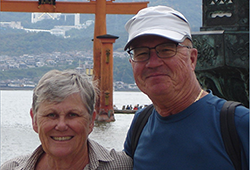 Bill and Ruth Maki spent 24 years at North Dakota State University where they worked alongside other faculty members to expand research and strengthen the university's Department of Psychology.
They both served as the department's chair during their tenure at NDSU and dedicated themselves to attracting and retaining top faculty and to developing the best program possible.
"We've had a soft spot for that department ever since" Bill said from their home near Tucson, Ariz.
Although the Makis moved on in 1997 to pursue other university positions and research, NDSU has remained an important part of their life's work and the beneficiary of their philanthropic support.
The Makis have established a planned gift, directing that a portion of their estate be set aside to create an endowment in support of student research within NDSU's Department of Psychology. They have also directed that a portion of their estate be used to support an existing endowment dedicated for faculty development.
"We know what it's like to run a department on a tight budget," Ruth said. "It's often hard to find any money to help students carry out research and to support faculty development.
"We wanted to do something for the institutions that made a difference in our lives and we decided this was the best way to do it," Ruth said.
Bill said it was easy to create the deferred gift as part of their will. To others inspired by NDSU's mission of education and service, Bill recommends involving the NDSU Foundation early in the process. He said NDSU Foundation staff were helpful in documenting exactly how they want their endowments to support the department's students and faculty.
Bill, a Fargo native, earned his bachelor's and master's degrees in Psychology from NDSU. He and Ruth met at the University of California, Berkeley where they received their doctoral degrees. They came to NDSU in 1973 where they taught Psychology and advanced research for 24 years before accepting positions at Texas Tech University.
In the early days of Internet, the Makis were pioneers in the research of web-based educational instruction and their work helped identify best practices for the effective delivery of online courses. The Makis developed Texas Tech's first online course in Introductory Psychology and Bill went on to develop an online course in research methods.