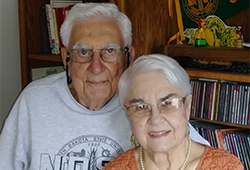 Alfredo Gedeon claims two places of birth: the South American port city of Cartagena, Columbia and North Dakota State University.
"I was born and raised in Columbia, South America, but I also consider North Dakota State University to be my second birthplace because that's where my life really began in many ways," Gedeon said.
The high school honors student knew that he wanted to become an engineer and his parents encouraged him to pursue a four-year degree in the United States.
"The day I was accepted to attend NDSU in 1948 was the happiest day in my mother's life," Gedeon said.
In many ways, Fargo was a big adjustment, but Gedeon embraced his new surroundings and threw himself into his studies and student organizations, including the Tau Beta Pi Honor Society, the Sigma Phi Delta Fraternity and Catholic student activities.
While attending NDSU, Gedeon developed lifelong friendships, he earned a degree in civil engineering and he met fellow NDSU student Doris Durbin Gedeon, now his wife of 66 years.
"It was a special time in our life," said Doris, a Burlington, N.D., native and NDSU home economics graduate. "We made good friends and we got a great education."
The Gedeons continue to support NDSU and student causes through cash donations and a charitable gift annuity. The annuity provided the Gedeons with an income tax deduction as well as fixed income payments for life. The remaining amount of the annuity will fund student programs at NDSU. The Gedeons said the annuity is a win-win arrangement that benefits them and the university.
"We have all the blessings in the world and this was a good way for us to give something back," Alfredo said. "NDSU will always be home to us.
"We still reflect back on our time at NDSU and we just wanted to help other students get the same kind of opportunities that we have enjoyed," he said.
Alfredo left Columbia a young man, not knowing what to expect. Aside from frigid temperatures, Alfredo said he found a warm and friendly community that he grew to love.
"It was January when I stepped off the plane," he said. "I wish I had a picture of my arrival in Fargo, wearing a coat borrowed from my uncle."
After graduating from NDSU, Alfredo earned a Master's Degree from the University of Minnesota. Alfredo and Doris then married and settled near Indianapolis, Ind., where Alfredo spent most of his career in the booming business of structural steel and reinforced concrete.
In 1954, Alfredo became a designer and engineer at Farnsworth Steel, a large construction company that was involved in major building projects in Indianapolis and throughout Indiana. He retired a vice president of Farnsworth after nearly 40 years with the company.
"When I began, the interstate highway system was just getting started and Indianapolis had only two eight-story buildings," he said. "With engineering advancements everything took off and we were right in the middle of it. Some of my designs are still there, still standing in Indianapolis."