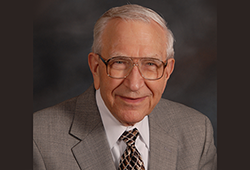 More than 60 years after graduating with honors from North Dakota State University, Dr. Charles Mode returned for a recent visit to a much different campus. The renowned mathematician, genetic scientist and researcher toured the College of Agriculture, Food Systems and Natural Resources, recognizing remnants of his old stomping grounds where he first pursued his interests in genetics and plant breeding.
He visited with faculty and engaged graduate and undergraduate students involved in research at Walster Hall. Several of the college's doctoral candidates have cited some of Mode's voluminous research publications without knowing that he graduated from NDSU.
What struck Mode the most about his long-awaited return was what he found inside the college's labs and classrooms.
"I was very much impressed with the work they are doing and it's the potential," Mode said of the college's genomics research and plant breeding programs. "I just liked everything that's going on there.
"The Department of Plant Pathology is involved in fundamental research to find answers that can revolutionize plant breeding," he said. "The work is so much more advanced and completely reinvented since I was at NDSU."
Mode said NDSU is a great place to support agriculture research, but it was a sense of gratitude that motivated him to establish an endowed professorship within the College of Agriculture, Food Systems and Natural Resources.
"My years at NDSU really set me up for the career I had," Mode said. "I had professors that pushed me in the right direction and encouraged me to continue my education."
Mode has established the Dr. Charles J. Mode Professorship of Genomics Research within NDSU's College of Agriculture. He has funded the endowed professorship with cash and a planned gift through his estate. One endowed professor can impact hundreds of lives through the courses they teach, the students they mentor and through their own academic endeavors. NDSU is a top-ranked research institution that is committed to recruiting and retaining the highest-quality faculty and key to that goal is the continued development of endowed professorships.
"Dr. Mode's donation will have a long-lasting impact on our plant-based research programs in genomics, plant pathology, and informatics," said Dr. Ken Grafton, dean of the College of Agriculture, Food Systems and Natural Resources. "The Charles Mode Endowed Professorship will be a successful way for NDSU to retain its best and brightest and to attract other highly qualified scientists."
After graduating from NDSU in 1952, Mode continued his education and research at Kansas State University and the University of California Davis where he earned a Ph.D. in genetics. His strong background in both genetics and mathematics led to a 41-year career, teaching and conducting research at Montana State University, State University of New York and Drexel University's Department of Mathematics.
Mode's leading research can be found in his books and more than 130 other publications that have advanced what we know today about many of the issues facing society, including AIDS, other infectious diseases, genetics, plant breeding and research methods in Biology and medicine.
Among his many other honors, Mode was awarded the Drexel University Award for Research Accomplishments in 1979. Retired since 1998, Mode lives outside Philadelphia and continues to pursue his research interests.
"I'm a real believer in research and I liked everything that is going on at NDSU," Mode said. "That was also a factor in my decision to create a professorship at NDSU."