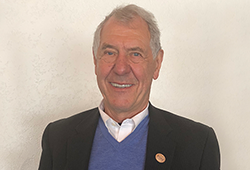 At an early age, Tony Welder learned the value of hard work.
Welder was nine years old when he started shadowing his father, Paul, who owned and operated a creamery in Napoleon, N.D. Within two years, Welder was earning 25 cents an hour at the family business.
"That gave me pride because I was already starting to earn my own way," Welder said. "I didn't have to ask my dad for a nickel to buy a cone of ice cream at Doerr Drug.
"I realized early on that there aren't any shortcuts and that I would have to work hard to be successful," he said.
The work ethic Welder developed in his father's creamery served him well. After working his way through North Dakota State University's School of Pharmacy in 1961, Welder enjoyed a remarkable career of leadership, service and business success.
During his career, Welder owned and operated several pharmacies ranging from large healthcare centers to small-town drug stores, including his hometown drug store where, as a young boy, he would treat himself to ice cream.
While building a successful pharmacy business, Welder also committed himself to improving the pharmacy industry and to supporting his alma mater.
"NDSU has done a lot for me and I give back because the university is doing the same thing for so many others," Welder said.
Welder has made a generous donation to help finance the expansion of Sudro hall, home of NDSU's College of Health Professions. Once completed, the 74,000-square-foot, six-story addition will prepare students for the rapidly changing health care industry and help meet the region's growing need for pharmacists and other health care professionals.
For many years, Welder has also funded scholarships for NDSU pharmacy students.
"I love helping these great students," Welder said. The thank-you notes and their appreciation are very satisfying. Maybe they will decide to do the same for others."
Welder also has included NDSU in his estate plan, and he has supported NDSU students in several other ways, both financially and through service.
Welder's advice for NDSU students and graduates is to start giving back in little ways.
"What you get in return through friendships and through the satisfaction of making a difference is very rewarding," he said. "I believe the more you get involved, the more you support others, the better your life is.
"And it doesn't have to cost much or take a great deal of time to make a big difference."