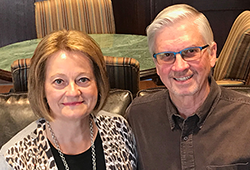 Clinton and Ardella Larson credit North Dakota State University for the rewarding life they built together since first meeting on campus as students 45 years ago.
Now retired and wanting to give back to NDSU, the Larsons have created two planned gifts in support of student scholarships.
"It's an opportunity for us to give back and support not only NDSU, but the entire state," Clinton said. "It's our way of helping the state and its people continue to grow."
The Larsons have designated the NDSU Foundation and Alumni Association as a beneficiary of a retirement account in support of student scholarships and they have also directed that a percentage of their will be used to support NDSU students as well.
"Maybe the students that we are able to help will turn around some day and do the same thing," Ardella said.
The university that brought them together also supported Clinton's career and lifelong passion for agriculture.
It was a natural progression for Clinton, who grew up on the family farm near Minot, to attend NDSU where he graduated in 1972 with a bachelor's degree in agriculture education. For the next seven years, the Larsons settled in the North Dakota communities of Buffalo, Elgin and in the Fargo area where Clinton taught vocational agriculture to high school students.
In 1980, Clinton's love for agriculture took him in a new direction that would define the rest of his career. He accepted a job as district sales manager for Dahlgren & Company, a sunflower seed supplier, and found that his strong background in education and agriculture were a great fit for the agribusiness industry.
"At one time or another, I have covered every county in North Dakota and stopped in nearly every town," Clinton said. "It was a great way to meet people and to learn about the challenges that farmers face on a daily basis."
Clinton's career also took the Larsons to Raleigh, N.C., where he served as a product manager at the home office of Aventis CropScience. Ardella studied home economics at NDSU, then became a successful paralegal. In North Dakota, she worked for several law firms and for the North Carolina Bar Association while they lived in the Raleigh area.
The Larsons said they enjoyed their time in North Carolina, but they missed family, friends and their many community connections in North Dakota.
Aventis sold its agriculture division in 2002 and the Larsons considered it an opportunity to move back to North Dakota where Clinton accepted a Fargo-based sales position with United Phosphorus Inc., a supplier of crop protection products. In 2004, Clinton joined former co-workers at Arysta LifeScience where he served the region's farmers until he retired in 2015, after 35 years in the ag supply business.
Today, you can find the Larsons cruising Fargo-Moorhead in their Shelby Mustang and attending community events, including NDSU sports at the Fargodome and the Sanford Health Athletic Complex where Clinton enjoys serving as an usher.
"I guess you could say that we've come full circle," Clinton said. "North Dakota has always been home."