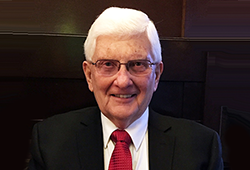 When Congress directed the U.S. Department of Agriculture to expand and improve the nation's crop insurance program, the department looked to a North Dakota State University graduate to help lead it though some of its most transformative years.
Throughout his 30-year career with USDA's Federal Crop Insurance Corporation, Gerald Puppe shuffled between Washington, D.C. and Kansas City to help usher in the modern era of crop insurance coverage for the nation's farmers and ranchers.
After retiring from the USDA in 1993, Puppe became vice president of National Crop Insurance Services, working another 11 years to promote advances in crop insurance. Based in the Kansas City area, National Crop Insurance Services provides training, research and other support services to the nation's crop insurance companies.
Now retired and living in the Kansas City area, Puppe said growing up on the family farm near Cavalier N.D., and his education prepared him well for a career in national agriculture policy.
Puppe graduated from NDSU in 1960 with a bachelor's degree in agricultural education and he earned a master's degree in public administration from Southern Illinois University. While attending NDSU, Puppe was an active member of the university's Epsilon chapter of Alpha Gamma Rho, a professional, social agricultural fraternity. More than 40 years later, the national fraternity inducted Puppe into its Hall of Fame.
In retirement, Puppe is making a difference by supporting NDSU students who share his lifelong passion for agriculture and education.
Since 2013, Puppe has enriched the educational experience of NDSU agriculture students by sponsoring their attendance at the Agriculture Future of America Leaders Conference which is held every year in Kansas City. The four-day conference connects university agriculture students with hundreds of industry leaders and includes programs that help students develop strong leadership skills and gain a greater understanding of global agriculture issues.
In November, Puppe will cover the travel and registration expenses for another 11 NDSU students from the College of Agriculture, Food Systems and Natural Resources to attend the annual conference. Every year, Puppe funds his generous gift through a charitable IRA rollover. Charitable distributions from IRA accounts can provide several tax benefits while allowing donors to support the charities of their choice.
Puppe has also established a planned gift as part of his estate to support NDSU student scholarships.
"Agriculture is a world consideration now and the more students can learn about the working world the better off they will be," Puppe said. "The AFA conference is a unique opportunity to expose them to the bigger agriculture picture and to help them find their place in this global industry."
Jacob Dailey, an NDSU senior majoring in agriculture education, said he will be attending his fourth AFA Leaders Conference as a NDSU campus ambassador and member of the AFA student leadership team.
"A big part of what I have been able to do and who I am today is because of my involvement in AFA," said Dailey who also serves as the student member of the State Board of Higher Education
"I'm extraordinarily grateful to be given the opportunity," Dailey said. "It's one of the most rewarding experiences that I never saw coming."