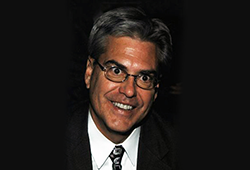 Nearly two years have passed since Terry Knoepfle last stepped into a classroom at North Dakota State University where he inspired students to master the complexities of business law and taxation for more than 20 years.
An associate professor in the College of Business, Knoepfle applied his knowledge and experience as both a practicing attorney and certified public accountant to prepare his students for successful business careers.
"He was a wonderful professor," said Chuck Hall, a 1991 accounting graduate and co-owner of an ABC Seamless franchise in Cheyenne, Wyo. "He had a deep caring for his students. He was always available when you needed help and he had an ability to explain complex information in ways that made sense."
Knoepfle's passion for teaching was recognized throughout his career at NDSU, where he earned several awards including the Outstanding Educator Award from the North Dakota Society of CPAs, the NDSU Teacher of the Year Award, the Preferred Accounting Professor Award and the College of Business Advisor of the Year Award.
Knoepfle had a lot yet to contribute when, following a brief illness, he died on April 28, 2016. Still, his impact on students and his legacy at NDSU lives on.
In honor of his former teacher, Hall has established the Terry Knoepfle Memorial Scholarship.
"He was one of those people who have a major influence in your life, and I thought this was a good way to honor his legacy," Hall said.
Since Hall established the endowed scholarship, other former students and faculty have come forward to support the fund.
"Terry had a huge impact on my life," said John Benson, who followed in Knoepfle's professional footsteps by earning his CPA and a law degree. "He was a teacher with real-world business experience and that was really beneficial."
Benson and Hall said they were happy to support the Terry Knoepfle Memorial Scholarship, and they encourage anyone who values education to help grow the fund.
"Terry had a lot to do with where I ended up, and I feel very fortunate to be in a position where I can give back," said Benson, a lawyer and internal tax consultant for a prominent Minneapolis family.
The Terry Knoepfle Memorial Scholarship serves as an ongoing source of financial support for students within the NDSU College of Business, Department of Accounting, Finance and Information Systems. Juniors and seniors who study accounting and maintain a grade point average of 3.5 or higher are eligible for the scholarship.
Jared Miller, the NDSU Foundation and Alumni Association's director of gift planning, said there are many ways to support NDSU scholarship funds, including outright gifts of cash or stock, multi-year pledges and planned gifts. Donors can direct their gifts to support the scholarships of their choice, and all endowments held at the NDSU Foundation are eligible for the North Dakota Income Tax Credit.