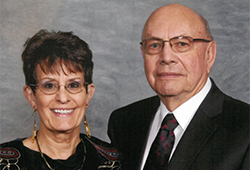 NDSU Students Benefit from the Jack and Jan Fuller Scholarship Endowment
Of all the lessons Jack Fuller taught during his 36-year career, the retired biology teacher and school administrator said the most important was pressing upon his students the value of a good education.
It's a lesson he learned from experience. Fuller worked his way through college, sometimes taking a quarter off to earn enough money for tuition and books. The Hope, N.D. native recalls long days filled with work and study, culminating in his earning a Bachelor of Science degree at Valley City State University followed by a master's degree from North Dakota State University in education administration.
Fuller applied the same work ethic throughout his career, teaching and leading schools for more than three decades in the small North Dakota communities of Calvin, Wimbledon, Hannaford and Casselton.
"I had people along the way help me become a successful student, teacher and administrator and I always tried to pass that along and help others," Fuller said.
Even though Fuller retired in 2001, he and his wife, Jan, continue to make a lasting impact on the lives of students.
Long-time supporters of NDSU, the Fullers have taken their philanthropy to a new level by establishing the Jack and Jan Fuller Scholarship Endowment Fund. The endowment supports NDSU students in their junior or senior year who maintain a grade point average of 3.5 or higher and can demonstrate a financial need.
"We wanted to lessen the burden of having to work while going to school," Jan said. "We know how hard it can be and we wanted to help students focus on their studies."
The Fullers created the endowment fund as part of their will, but decided to begin contributing to the fund as often as they can to increase its impact on students' lives.
"We decided to start funding it early and pay it forward so that we can see for ourselves some of the results," Jack said. "There's a lot of kids that can make a big difference in this world if they can get just a little help."
A few years ago, Jack got to see some of the results of his generosity at Sanford Health in Fargo, where he was admitted for treatment. Lying in a hospital bed, Jack was in the good hands of a student nurse from NDSU who recognized his name because she had received the Jack and Jan Fuller Scholarship. The student nurse, a junior in NDSU's College of Health Professions, thanked Jack for helping her attain her college and career goals.
"It was gratifying to see our scholarship making a difference," Jack said. "It always feels better to give than to have."