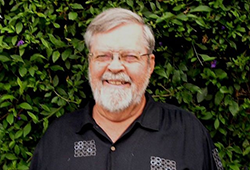 The Space Race between the United States and Russia was heating up when James Olsen, a newly minted master's degree graduate from North Dakota State University, landed a job with aerospace giant North American Aviation.
Within weeks of earning his mechanical engineering degree, Olsen left his hometown of Fargo in 1962 for southern California. There he began a 35-year career in the forefront of space exploration, rubbing shoulders with astronauts and advancing NASA's Apollo Space Program and the Space Shuttle Program.
"It was during the early stages of the space program," Olsen said from his home in Huntington Beach, Calif. "It was definitely an exciting time and I was happy to be part of it and to make a meaningful contribution."
To honor his late wife and support NDSU engineering students, Olsen has established the James and Maryalice Olsen Scholarship Endowment Fund. Scholarships will be awarded to NDSU undergraduate students who pursue a degree in the College of Engineering. The endowed fund will provide as many annual scholarships as the fund will support and will be based on students' academic achievement and financial need.
Olsen said it was easy updating his existing estate plan, dedicating some IRA funds and some real estate holdings to support the James and Maryalice Olsen Scholarship Endowment Fund.
"I just felt it would be nice to give something back to the University and the state of North Dakota for the education I received and for helping me get a good start in my career," Olsen said.
Growing up near the NDSU campus, Olsen said attending the university's College of Engineering was a "natural progression" in his education. After graduating, Olsen moved to Fullerton, Calif. where he began working for North American Aviation, performing analysis and test support on navigation and radar systems used in aircraft, nuclear submarines and missiles.Within a couple years, Olsen was transferred to the company's Space Division where he worked on the Apollo Space Program. He worked closely with NASA officials and supported all engineering groups that designed, built and tested components for the Apollo spacecraft.
North American Aviation was NASA's primary contractor in building the Apollo Spacecraft Command Module. After Apollo 11 landed on the moon's surface in July 1969, six more Apollo missions followed by the end of 1972.
"It was just a tremendous feeling to be part of the Apollo Program," Olsen said. "The missions were a culmination of everything we worked for.
"Everything we were working on was cutting-edge at the time," he said. "A lot of what was developed for Apollo ended up benefiting the general public in everyday life."
North American Aviation, part of several mergers during Olsen's career, became Rockwell International shortly after NASA awarded the company a contract in 1972 for its Space Shuttle Program. Rockwell International built six Space Shuttle orbiters for NASA to carry payloads and crews to space, while a host of other contractors developed other program components including the space shuttle's rocket boosters.
Olsen worked on the Space Shuttle Program until his retirement in 1997, serving as Manager of Mechanical and Electrical Systems testing for Rockwell International's Space Division.
Since retiring, Olsen spends most of his time on southern California's golf courses. But he hasn't forgotten how important NDSU was in launching his career.
"NDSU had a good faculty," Olsen said. "I felt like I got a good education, and that I was prepared for my work at Rockwell International.
"I'm happy to be in a position now to help other students reach their goals," he said.