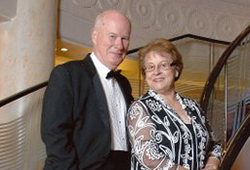 North Dakota State University opened up a world full of opportunity for Donald and Jeanne Nelsen.
The United States was expanding its involvement in Vietnam when the Nelsens met at NDSU in the mid 1960s. They shared a strong determination to succeed in their fields of study and to carve out a fulfilling future for themselves. After earning their degrees and getting married, the Nelsens embarked on a life that took them around the world.
Donald graduated from NDSU with a degree in civil engineering in 1967. Not long after, he began a 32-year career with the global oil and chemical company, Amoco Corp. The Nelsens traveled the world for more than 20 years, settling in England, Scotland, Norway and other countries while Donald supervised the development of major construction projects.
"Donald really appreciated the degree he got at NDSU," said Jeanne, who earned a bachelor's degree in home economics education. "He always thought that his NDSU education prepared him to do his job very well."
Among the many building projects that Donald supervised, the United Kingdom's Central Area Transmission System (CATS) was the largest. The project included building a major natural gas processing terminal in Northeast England as well as a complex pipeline system that carries raw gas about 140 miles from offshore rigs in the Central North Sea to the processing plant. At the time of its completion in 1993, CATS was one of the largest construction projects ever undertaken in the United Kingdom, second only to England's Channel Tunnel. Today, CATS processes and transports about 14 percent of the United Kingdom's natural gas production.
Donald retired in 1999, and the Nelsens returned to Houston to spend more time with their children and grandchildren. After Donald passed away in 2015, Jeanne decided to establish an endowed scholarship at NDSU to help other students earn their degree and carve out a successful and fulfilling life of their own.
Jeanne has established the Donald Nelsen Memorial Scholarship Endowment, an annual scholarship to be awarded to an NDSU engineering student.
"I thought the scholarship would be a great way to give back and to honor Donald," Jeanne said. "We would not have the life we had if Donald didn't graduate from NDSU."
Benefits of an IRA Charitable Rollover
Jeanne chose to fund the Donald Nelsen Memorial Scholarship Endowment through an IRA charitable rollover. IRA funds can be directly transferred to the NDSU Foundation and Alumni Association to support students and NDSU's important mission. Through an IRA charitable rollover, donors can make a tremendous difference at NDSU and benefit from significant tax advantages at the same time.
For eligible donors, the benefits of an IRA charitable rollover include:
Avoiding taxes on transfers of up to $100,000 from your IRA to the NDSU Foundation.
Satisfying your required minimum distribution (RMD) for the year.
Reducing your taxable income, even if you do not itemize deductions.
Making a gift that is not subject to the 50-percent deduction limits on charitable gifts.
Helping further the work and mission of North Dakota State University.
North Dakota Roots
Of all the places that the Nelsens have lived, Jeanne said her late husband's favorite spot in the world was his grandfather's farm near Braddock, N.D. Donald grew up in Chicago, but he spent his childhood summers working on that farm, which also led him to NDSU.
Jeanne, a Wing, N.D. native, said she and Donald traveled back to North Dakota when they could to see the farm and to visit the NDSU campus.
"NDSU is a special place, and I'm happy that we can help other students reach their professional goals," she said. "As long as there is an NDSU, there will be a Donald Nelsen Memorial Scholarship."
For more information about IRA charitable rollovers, and other gift options that can provide significant tax advantages, contact Jared Miller at the NDSU Foundation and Alumni Association.