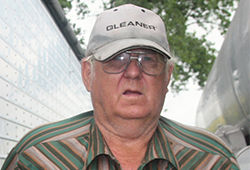 Kenny Renfrow had some difficult decisions to make. The farmer from Calvin, North Dakota, was retiring and he was faced with what to do with the grain he had in storage and a yard full of equipment he had accumulated over a lifetime in farming.
He knew he could sell everything, but he didn't want to pay the taxes. Renfrow has an affinity for agriculture and its future. So, after several discussions with his tax adviser, he decided to donate it instead.
Working with his tax adviser, attorney and the NDSU Foundation and Alumni Association, Renfrow established a Charitable Remainder Unitrust (CRUT) that would be funded with the value of last year's grain harvest. By giving the grain to the trust and having the trust sell it, Renfrow avoided claiming the income. In return for donating his grain, he will receive a lifetime income payout.
This worked so well, Renfrow decided to do it again when it came time to sell the equipment. If he had the sale himself, he'd end up claiming all of the income in one year and pay nearly half of the proceeds back in taxes due to the higher tax bracket. Instead, Renfrow decided he'd donate the equipment, just like the grain. He gave the equipment to the CRUT, NDSU Foundation as trustee, and the Foundation hosted the auction sale. Again, Renfrow avoided claiming income in one year and allowed the trust to invest all the proceeds for him and will pay him income for life.
Even though Renfrow never attended NDSU, he spent his entire career in agriculture. He decided that he could make a powerful impact with the remainder portion of these charitable trusts. The proceeds will be used to establish an endowment that will provide research dollars specifically aimed at high protein wheat research, a crop Renfrow has grown all his life.
"I figure that by doing this I can avoid paying all those high taxes, have lifetime income and ultimately benefit a crop I've been growing forever," Renfrow said. "That eventually makes my land and all the land around me worth more if we can continue to produce good crops, and that's a good thing."