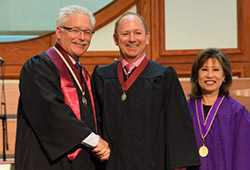 One class caused John Klai to change direction on his life's path, all leading him to NDSU.
It was an engineering class at another university, where John was a junior studying accounting. The class not only enthused him to switch to a new major, but also to enroll at NDSU to pursue his dream of becoming an architect.
He spent the summer of 1975 with fellow transfer students taking the first two years of environmental design classes so they could join the third-year class and studio in the fall. "We were 'affectionately and factiously' referred to as the '90-day wonders' since we typically came with an abundance of credits in other curriculums," John said. "Some even had previous degrees in other fields of study."
His fifth year architecture studio was housed in a quonset on campus. He describes his classmates as extremely driven and competitive. John knew he had made the right decision when he received the North Dakota AIA 'Gold' Medal, an award given annually to a NDSU architecture graduate who shows the most promise. John received his Bachelor of Architecture degree in 1978 and proudly displays his first medal on his desktop to this day.
John honed his strong work ethic working at his father's construction company in Osnabrock, North Dakota, throughout high school and college. Equipped with his degree from NDSU, his first job involved an expansion to Caesars Palace Las Vegas. He was initially told that his role on that highly visible project and property would be for some 18 months however he ended up serving Caesars for over 12 years.
His success prompted he and a fellow NDSU architectural graduate, friend and classmate to start their own architecture firm in 1995, now known as Klai Juba Wald Architects, which specializes in gaming and hospitality projects throughout the United States. Some of their projects include Mandalay Bay; Hard Rock Las Vegas, Hollywood and Tampa, FL.; and the remodel of MGM Grand, Luxor and Aladdin into Planet Hollywood. His company actively recruits new NDSU graduates, whom he describes as grounded, focused, competent and hard-working.
"I am doing what I wanted to do way back when. For me, making the decision to attend NDSU was easy," John said. He credits his time in NDSU's Architecture Department for opening up many of the opportunities he's experienced, remembering those years with enthusiasm and compassion.
He has been honored and bestowed many distinguished medals and awards throughout his career. In 2015, the American Institute of Architects inducted John into their prestigious College of Fellows. The Fellow title recognizes those who have made significant, national-level contributions to architecture and those who have achieved a high standard of professional excellence.
John serves on many professional boards, including the Nevada State Board of Architecture, Interior Design and Residential Design. He and his husband, Jon Sparer, who is an architect and was also a principal in a competing firm until 3 years ago, are active in community-wide causes including the Discovery Children's Museum and the Gay and Lesbian Community Center of Southern Nevada. John and Jon are both adjunct design professionals at University of Nevada Las Vegas School of Architecture. In their spare time, they enjoy traveling the world. Jon, John and his extended family currently live in Las Vegas.
Because John feels students and young professionals are our future, he continues to support NDSU, giving generously of his time, talents and financial support in hopes of motivating others. Naming NDSU in his estate makes him a member of the NDSU Foundation and Alumni Association Heritage Society. He is an active member of the NDSU Foundation and Alumni Association Board of Trustees and has served on many committees.
John received the NDSU Alumni Achievement Award in 2006. He joined the NDSU Foundation and Alumni Association's 1862 Society through his generous support to create Klai Hall. This support facilitated relocating NDSU's entire Department of Architecture and Landscape Architecture to Downtown Fargo. He hopes the people and leaders of North Dakota and the City of Fargo recognize the significant impact NDSU's successes have on the local, State and regional economies. These successes keep Fargo vibrant and help bolster its Downtown.
John said he feels blessed and doesn't take anything for granted. He hopes to continue to engage and inspire other proud alumni to sponsor scholarships for students at NDSU.
"It's been a wonderful, wonderful run!" John said of his career and life's opportunities. "Go Bison!"