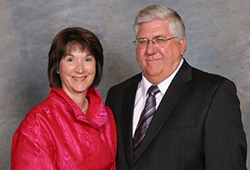 The Howe's saw a unique opportunity to give back to a college and community, which has had such an impact in their lives.

Jim and Gwen Howe both grew up on farms in North Dakota, Jim in Casselton and Gwen in Arthur and later in Kindred. Gwen graduated from NDSU in Child Development and Family Relations and worked at 1st Bank. Jim graduated from Iowa State in Farm Operations. He is the 4th generation running the family business, Howe Seed Farms.

The Howe's believe that education is the key to success. They were fortunate enough to have their college paid for and could in turn pay for their two children's college educations. Both of their children graduated from NDSU, Michael in Communications and Virginia in Pharmacy.

They know some students struggle to pay for college, especially single mothers, and they found a way to help. Jim and Gwen recently became involved with the Jerimiah Program, and wanted to tie this cause in with NDSU, the college that has become such an important part of their lives. It was a revolutionary thought to set up an Endowment where one of the requirements is to be actively involved in the Jerimiah Program in Fargo, North Dakota. This program provides support for single mothers and their children, to help transition them from poverty to prosperity, through a career-track college education. Gwen and Jim want to reward those that successfully move through this program, by ensuring a four-year college degree. Not only does their endowment provide scholarships in perpetuity, it gives back by helping two generations, the mothers, and their children who can now learn by example how to be successful.

Both feel their parents taught them so much in life, including the importance of community service. Jim and Gwen have enjoyed being involved at NDSU, Gwen being on the Alumni board for many years, and Jim being a trustee on the Foundation Board. They believe you don't have to be a NDSU alumni to get involved, and you should use your money to do good things for others. They are excited to know they will be helping women obtain independence with the help of their scholarship.