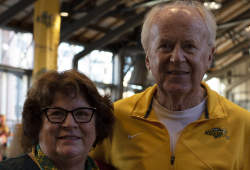 When Jim '70 and Rosie (Schaan) '71 Aipperspach graduated from North Dakota State University, they never could have imagined the journey they'd experience together. The two met through their ties to Sigma Alpha Epsilon fraternity and Kappa Delta sorority while undergraduates.
After graduation, Rosie pursued a traditional career with her degree in child development and family relations. As the oldest of ten children, she used her natural, instinctive nurturing ability to assist families and students during a career working with youth with special needs.
The general nature of Jim's industrial engineering degree, however, prepared him to apply engineering concepts to a variety of careers that sent the couple across the U.S. and back to Fargo before they settled in Des Moines, Iowa.
"I had a low lottery number, so I had the opportunity to serve in our military and gratefully was accepted into naval officer candidate school and had the opportunity to serve as a reserve officer in the United States Navy in Virginia Beach, Virginia," Jim recalled.
Jim's work as a naval officer in the U.S. Navy involved helping navigate FBM nuclear submarines. His engineering foundations in mathematics and science proved invaluable when it came to guiding submarines submerged for weeks at the bottom of the ocean.
"Industrial engineering is a fairly generalized engineering curriculum, so I had the opportunity to understand engineering principles better," Jim said. "I never worked as an industrial engineer, per se, in say a manufacturing facility, but had the opportunity to apply these fundamental principles to many of the business enterprises that I was engaged with. It created really good foundation for me in my professional life."
Following three-and-a-half years in the Navy, Jim and Rosie left Virginia and returned to Fargo. Jim started his career with what was then Northwestern Bell, now Century Link, while Rosie was the director of a preschool. In 1984, they moved to Des Moines, where they've lived since. Rosie's work with special needs students in public education began in Iowa. Jim accepted a job with US West and continued in that position until his retirement in 1993, but he took a nontraditional path through retirement. First, he served as president of United Way of Central Iowa, then he served as president for Association of Business and Industry, followed by a job as the institutional officer of Great Ape Trust in Des Moines, and he finished his professional career as senior advisor to a financial brokerage and insurance firm. These various careers, according to Jim, relied on the skills he learned through the engineering education he earned at NDSU.
"Having the principles and the concepts of problem solving that I learned in industrial engineering that I could then apply in my executive life has been very fruitful and meaningful," Jim said. "Applying those same principles by putting rigor and discipline in place to take abstract ideas and come up with logical solutions using a principle approach based on logic helps you come up with solutions that are fact-based rather than subjective, so it gives you solutions to problems, whatever they might be in business."
After years of annual support to NDSU, the Aipperspachs' strong affection for the university, the time they spent here together, and the opportunities they've pursued as a result of their educations inspired them to enhance their investment in NDSU's future by making legacy gift through expendable and deferred giving. Their gift will establish an endowed scholarship fund to provide support to freshman majoring in industrial or manufacturing engineering. In addition to the endowment through planned giving, Jim and Rosie also made a five-year gift commitment to provide $10,000 annually for student scholarships starting in 2021. This gift was matched by the North Dakota Challenge Grant ($.50 on the $1), which increased the fund to $75,000.
Providing an education for their sons Ryan and David to build careers and successful lives is what Jim and Rosie consider one of the greatest gifts they gave their children. Now, they look forward to helping more young people pursue the dream of an NDSU education without the burden of financial debt.
"Rosie and I determined a really important, effective way, and a very gratifying way, for us to be good stewards of our resources is to share some of those resources now with students who may not have an opportunity for a good education and successful career and a great life without others giving them some financial opportunity to pursue an education," Jim said. "These scholarships are a meaningful way for us to fulfill a commitment to ourselves to be good steward to the resources entrusted to us."