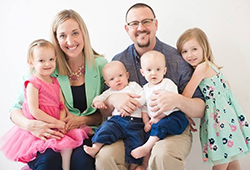 In 1996, NDSU scouted Jayne to attend the university on an athletic scholarship for both volleyball and basketball. After her campus visit, she decided to play basketball on a scholarship for Coach Amy Ruley while pursuing a major in Mass Communication, followed by a Master's in Mass Communication with an emphasis in Public Relations.

Jayne, who grew up in Sioux Falls, tells how fortunate she has been in her life to have such a supportive family. As a freshman at NDSU, she was worried about moving so far away from home and her family, but it didn't take long for Jayne to realize that she now had a "Bison family". Jayne said she met so many amazing people at NDSU, including her teammates who remain her closest friends. Coach Ruley and Coach Kelli Layman were so much more than coaches to her as they helped her navigate college and offered advice along the way. She also met her husband, Mike, at NDSU. Mike was from the Minneapolis area, and he was convinced to check out NDSU by a neighbor of his, who was like a big brother to him. Originally he entered the Athletic training program, but after one year he changed his major to Business Administration. He also showed his school spirit during his junior year by being NDSU's Thundar.

After graduation, Mike completed Law School at the "other" college (he states he is a Bison fan, through and through!), and he and Jayne reconnected in the Minneapolis area. They stayed tied to the "NDSU family" by attending the great alumni events and watch parties that were held in their area. After a short time in Minneapolis, they decided to follow some career opportunities which led them back to Fargo.

Jayne & Mike were both raised with a strong belief in giving, whether it is time, talents or money. They agree that NDSU gave them a great foundation, and they both feel it is important to give back to the community. While this is an extremely busy time in their lives (they have four young children, all under the age of six, including twins!), they want to instill their value of giving back to their children, who already know what it's like to be a Bison!

The Gusts were asked to give to the Edge Campaign, a project to build the new Sanford Health Athletic Complex. They are happy to support the Edge Campaign because Bison Athletics played and continues to play such a huge role in their lives. They agree that the successes of the athletic programs are felt way beyond the courts or playing fields, and that athletics continue to shine the spotlight on the entire NDSU campus. Jayne and Mike are grateful for their opportunities at NDSU, and they feel blessed to have the "Bison family" continue to support them in their professional and personal endeavors. Their hope is that by giving back to NDSU, others might have positive experiences as Bison, too.