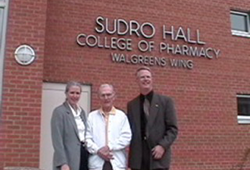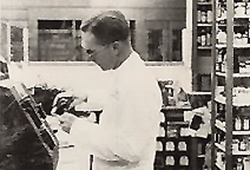 "One of the best investments I ever made" is what my dad, Cy Zweber, said after paying for my Pharmacy degree at NDSU.
Mary Zweber speaks with enthusiasm and pride about her dad, Cy Zweber. Cy was born and raised in New Leipzig, ND. A pharmacist in nearby Elgin befriended him and mentored him through high school. This prompted him to enroll in pharmacy at NDSU (then NDAC) in 1929. His favorite classes were those taught by Dr. Sudro, Dean of the College of Pharmacy for whom Cy developed a lifelong respect. Upon graduation, in the depths of the depression, Cy worked in Sentinel Butte, Williston and then Rolla, all in North Dakota.
After service in WWII, he married Pauline Logan and moved to Rice Lake, WI, where he purchased a small town pharmacy complete with a soda fountain. After several years of "24/7" work weeks, Cy wanted to spend more time with his family so he sold the store and moved to White Bear Lake, MN. There he enjoyed a 25-year career with Walgreen's flagship store in downtown St. Paul. Always the inventor, he ended his career with three patents, two involving pharmaceuticals.
Mary and her two brothers were all born in Rice Lake, WI. She followed in her dad's footsteps and enrolled in the pharmacy program at NDSU in 1970. Upon earning her degree she worked at the Mayo Clinic and later R&D and Business Development with 3M Pharmaceuticals in St. Paul, MN and for several years in Nottingham, England. She enjoyed a remarkable career and in her "retirement" Mary finds herself working as a pharmacist part time at a neighborhood clinic and hospital pharmacy in Stillwater, MN. Additionally, she serves as an advocate for the deaf, a volunteer tax-preparer for low-income families, and a first responder with the MN-1 Disaster Medical Assistance Team (DMAT).
When reflecting on her time at NDSU, Mary fondly recalls her parents driving her to Fargo and helping her settle into Thompson Hall at the start of her first term. Cy and Pauline returned often and enjoyed attending Bison football games. Since graduating, Mary has maintained a close bond with many of her pharmacy classmates. She has her dad's love and passion for NDSU. Father and daughter shared this in a special way when Cy made his last visit to campus accompanied by Mary, Pauline and Mary's husband, Roger. Cy was in his 90's by then and he was a special guest at the 50 Year Club Reunion (it was actually Cy's 69th reunion year.) Dean Peterson welcomed Cy with a personal tour of the college and Cy was invited to speak at the reunion dinner that evening.
Visiting with her dad during his final years, Mary and Cy often agreed that a NDSU Pharmacy degree was one of the best investments either of them ever made. And to honor her father, Mary and Roger have continued this tradition by establishing an endowed scholarship in Cy's name. "It's one of the best investments we'll ever make," says Mary.