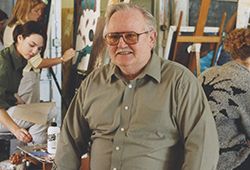 Wayne Tollefson has a mission. He wants to create inventive art and give insights into the art world to NDSU students so they can have the confidence to know they can succeed.
He discovered his love for art as a high school student, growing up in Kansas City, Missouri. He also enjoyed debate and theater.
Wayne earned his Bachelor of Fine Arts degree from Bethany College in Linsborg, Kansas, and decided to join the U.S. Army. After his return, he obtained his Master of Arts degree from Michigan State University in 1961. He was teaching art at the high school level when he heard about the art position at NDSU. At that time the art program was part of the Department of Home Economics and later moved to the College of Arts and Sciences. Wayne began teaching at NDSU in 1968 and was the first head of the Fine Arts Department.
When asked about his values regarding philanthropy and reasons for giving to NDSU, Wayne said, "I like to be able to help people and students anyway I can. That's an enjoyment, to help others. My students in school were like my children and this is a way I can still help them. NDSU means something to me."
"I have a skill which I believe is a gift from God and I wanted to share that skill with others," he added. "I've been fortunate to have gained from my skill."
Throughout his career, Wayne found success in national and international art shows. He wanted others to have the same opportunities and established a scholarship for students studying visual arts at NDSU. He's made provisions to support the scholarship by naming NDSU as a beneficiary on his IRA. NDSU is a student-focused university that prepares graduates to compete successfully, nationally and globally.
Wayne taught for more than 33 years at NDSU before he retired in 2001. He continues to paint, draw and share his knowledge with others. He also enjoys reading and following college and professional football. He still lives in Fargo and loves NDSU.