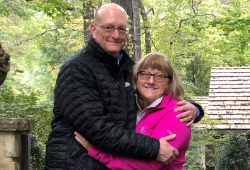 Stevan ('82) and Joanne ('84) Bobb wanted to help students at North Dakota State University reach their full potential. The NDSU grads wanted to support students who, like Steve, grew up in a rural community and earned high marks in high school.
The Bobbs, who met while attending NDSU in the early 1980s, also wanted to focus their support on students who shared their interests in agriculture, education and health.
"We had ideas about what we wanted to accomplish, but we weren't sure how to structure them," Steve said. "The NDSU Foundation was very good about helping us focus on what we wanted to do and how we wanted to do it. With some help, it wasn't difficult to design a scholarship program to have the impact that we wanted it to have."
In June, the Bobbs established two NDSU scholarship programs in honor of Steve's parents, Marion and Byron Bobb. Each year, the scholarships will help two College of Agriculture, Food Systems, and Natural Resources students and two students within the College of Human Development and Education realize their academic goals. The scholarships, to be awarded to eligible sophomores beginning in the fall semester of 2019, can be renewed for up to three years provided students continue to meet eligibility requirements.
"We wanted to make a difference in people's lives, make education more accessible," Steve said. "We also wanted to support the institution that was really a foundation for our lives together. In many ways, our experiences at NDSU prepared Jo and me for what we've been able to accomplish."
Steve grew up on a family farm near Richardton, N.D. He earned a bachelor's degree in animal science and agronomy and a minor in agricultural economics at NDSU before embarking on a distinguished career with BNSF Railway, one of North America's leading transporters of grain, consumer goods and industrial goods. For more than 30 years, he has moved up the career ladder and now serves as BNSF Railway's executive vice president and chief marketing officer. Jo grew up in Maine and earned a bachelor's degree in food and nutrition from the College of Human Development and Education. She served as a dietician at Baylor University and as chief clinical dietician at Arlington Memorial Hospital before turning her full attention to family.
Today, the Bobbs live near BNSF Railway's corporate headquarters in Ft. Worth, Texas. They have two daughters, Alexandra and Rachel, and two grandchildren.