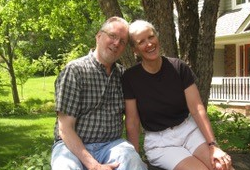 Following in her father's footsteps, Mary Zweber embarked on a successful career in the pharmaceutical industry after graduating from North Dakota State University in 1975.
Mary's father, Cy Zweber, graduated from NDSU during the Great Depression and became an accomplished pharmacist in North Dakota and Minnesota. Mary fondly remembers her father referring to her college expenses as one of the best investments he ever made.
In honor of her father, Mary and her husband, Roger Miller, established the Cy Zweber Pharmacy Scholarship Endowment Fund in 2014. The endowment provides scholarships in support of NDSU pharmacy students.
"It's a nice tribute to my dad and the right thing to do," Mary said.
"I'm always amazed at the value that an NDSU pharmacy degree has in the marketplace," she said. "NDSU is a bargain, but students are still coming out of college with considerable debt."
Matching funds made available through the North Dakota Challenge Grant doubled the value of the endowment. Mary and Roger also make additional cash donations to further build the scholarship fund and its immediate impact on student education.
"We have an opportunity to see our money at work while we're living," Mary said.
Matthew Confeld, a Ph.D. student in pharmaceutical sciences, said the Cy Zweber scholarship is a big help in continuing his education while also paying for health insurance and expensive medications to manage his challenges with Epilepsy, a seizure disorder.
"The scholarship is really helpful in that it allows me to focus on my schooling and not worry about having to also cover these other costs," Confeld said. "Mary and Roger have done a lot for me and I really appreciate it. I hope I can honor them by embodying the ideals that her father represented."
To manage the bulk of their charitable donations in support of NDSU and other causes, Mary and Roger have created a donor-advised fund. Contributions of cash, securities, real estate or other qualified assets can be eligible for immediate tax deductions, and the contributions can be invested for tax-free growth.
"It's worked well for us," Mary said. "You can get huge tax benefits. We've contributed stock and that allowed us to reduce capital gains."
After graduating from NDSU, Mary went on to earn a degree in computer science at St. Cloud State University and a Master of Business Administration from the University of Minnesota's Carlson School of Management. It was at Carlson where she met Roger. Their families shared the same strong values about education and the health professions; values that Roger said continue to influence their support of NDSU's School of Pharmacy.
In 1975, Mary became a pharmacist at Mayo Clinic before moving on to a 27-year career at St. Paul-based 3M. In the global science company's pharmaceutical division, she held several leadership roles, advancing product research and development as well as business development.
Mary and Roger are also generous supporters of the Sudro Society of Pharmacy Fund, which is used to make critical investments in educational programming and faculty support.
While working for 3M, Mary took full advantage of the company's 50-percent charitable match program which allowed her to double the value of her donations to the Sudro Society of Pharmacy Fund.
"There are a lot of companies that offer a charitable match and it's certainly something that every NDSU alumni should check into," she said.
Mary's and Roger's support of NDSU also includes a large donation in support of the construction of Aldevron Tower and the remodeling of Sudro Hall. The project will accommodate collaborative learning and state-of-the-art research within the College of Health Professions and better serve North Dakota and the larger region, where ongoing shortages of health care professionals limit access to quality care.
Mary left 3M in 2007, after guiding the company's divestiture of its pharmaceutical division. Today, she works at a community pharmacy in Stillwater, Minn., and serves as a first responder on the Federal National Disaster Medical System-Disaster Medical Assistance Team. She also serves as a trustee at the NDSU Foundation and Alumni Association.