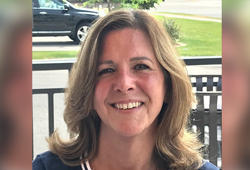 Nearly 30 years after graduating from North Dakota State University, Deborah Mollison Davis returned to campus where she gained a new appreciation for her alma mater and its students.
The licensed addiction counselor agreed in 2013 to serve on the College of Human Development and Education's Board of Visitors, a group of volunteers who help advance the college and students' education. Davis graduated from the college in 1984, earning a Master's degree in education with a focus on addiction counseling.
"I have had a great opportunity to see NDSU in a whole new light," Davis said. "I was impressed with the level of involvement between professors and students and I was impressed with students' level of maturity and dedication.
"I also started getting a deeper appreciation for how far education has come since I was in college," she said. "The more I learned, the more I wanted to support the university and students."
Davis served as chair of the college's Board of Visitors for two years, but she said it was her exposure to students while serving on the scholarship committee that truly inspired her to give back.
"It's tough because we have all of these super talented students interview for just a couple scholarships," she said. "I look at these kids and the promise they represent and it makes me want to make a difference."
In 2014, Davis started funding an annual scholarship for graduate students within the College of Human Development and Education. Since then, she has also donated to the college's School of Education Endowment and has established a planned gift, directing that a portion of her estate be set aside for students within the college who need financial assistance.
"Today's students have a voice, they have a direction and we need to support that," she said. "I just want to make a difference and there is no better place to do that."
Davis knew from an early age that she wanted to make a career of helping children and families. Her desire to make a difference came into focus at NDSU. Since earning her Master's degree, Davis has become a leader in North Dakota's fight against drug abuse and addiction.
Davis was an early proponent and developer of North Dakota's Juvenile Drug Court. The statewide program promotes youth access to behavioral health treatment and services that help break the cycle of drug abuse, addiction and incarceration.
After 10 years at United Recovery Center, Davis became the primary adolescent addiction counselor at Northeast Human Service Center in Grand Forks in 1994. Today, she serves as the assistant regional director of the Northeast Human Service Center which serves Grand Forks, Walsh, Pembina and Nelson counties.