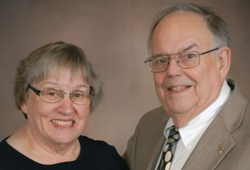 Growing up in his father's farm equipment dealership in Hurdsfield, N.D., Donald Grimm discovered that he had a natural gift for engineering.
Grimm parlayed his talents into two engineering degrees at North Dakota State University and a successful career at Rockwell Collins, a global leader in the design and production of aircraft avionics.
Giving back to NDSU also came naturally for Grimm and his wife, Marjorie, who he met while attending the university. Donald graduated with a bachelor's degree in electrical engineering in 1959 and a master's degree in electrical engineering in 1964. Marjorie graduated from the College of Human Development and Education.
"It's just the nature of what we've been brought up to believe, that we owe it to help other people," Grimm said from his home in Cedar Rapids, Iowa. "The financial success that I achieved was a product of my education at NDSU, and Marjorie and I felt a need to repay that in whatever way we could."
In 2010, the Grimms established a charitable gift annuity that will fund scholarships for NDSU students studying electrical engineering. The annuity provided the Grimms with an income tax deduction as well as a secure source of fixed payments for life. The annuity's remaining value will fund the ED and Kay Anderson Scholarship Endowment within NDSU's College of Engineering.
"Financially it was a really good investment," Grimm said. "It has a good rate of return and we have also benefited from the charitable deduction."
This year, the Grimms have established a second planned gift, directing that a significant portion of an IRA account be set aside to provide additional funding for the Ed and Kay Anderson Scholarship Endowment.
"NDSU gave us a top-quality education and this is our way of helping others to become successful," he said.