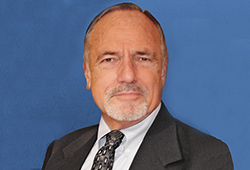 When Ronald Kipp enrolled at North Dakota State, he had two major objectives in mind. The Edgeley, N.D., native wanted to become an engineer and he had to see about a girl.
"My high school sweetheart was living in Fargo at the time, so that was another incentive," Kipp said about his decision to attend NDSU in 1965.
Kipp's hard work at NDSU paid off. After graduating with a degree in mechanical engineering and completing the university's Reserve Officers' Training Corps (ROTC) program, Kipp enjoyed a nearly 40-year career spanning service in the U.S. Air Force and the nation's transportation industry.
And the girl? Kipp and his high school sweetheart, Phyllis, will celebrate their 50th wedding anniversary in April.
"NDSU had a big impact on my life," Kipp said from his home in Lakeville, Minn.
Wanting to give back, Kipp has established the Ronald and Matthew Kipp Endowed Scholarship in support of NDSU mechanical engineering students. Ronald created the scholarship endowment utilizing the IRA Charitable Rollover and through his estate plan.
Kipp's son, Matthew, also attended NDSU where he earned a business degree. While serving in the U.S. Air Force, Ronald earned an MBA at the University of Chicago. Matthew, like his father, also furthered his education by earning a law degree.
"NDSU provided a solid foundation to further our education and in our careers," Kipp said. "We want to assist others in getting the same solid foundation that we received at NDSU."
Kipp has also established an endowment through his estate plan in support of NDSU's football program. Kipp said he decided to support NDSU football after reading, "Horns Up: Inside the Greatest Football Dynasty." The book, authored by Jeff Kolpack of Fargo, chronicles NDSU's successful Division I football program.
"It gave me a new appreciation for the amount of money that had to be raised for a successful program," Kipp said. "Whenever I wear NDSU apparel, anywhere in the United States, people recognize it. NDSU football has helped to raise the entire university's stature."
Kipp received a scholarship from the Air Force to attend NDSU which came with a four-year service commitment.
"This was during the Vietnam War and I thought I would end up flying in the Air Force, but my vision wasn't good enough for pilot training," he said.
Instead, the Air Force sent Kipp to military bases in Tennessee and Ohio where his engineering skills were put to work on several major development projects.
At Wright-Patterson Air Force Base in Ohio, Kipp joined a small group of Air Force officers assigned to the development program for the F-16 fighter jet. Kipp and other engineers conducted ground tests, flight tests and monitored engine performance.
"It was the first aircraft that was all electronic," he said. "There were no cables, just fly-by-wire. It had never been done before so it all had to be tested."
In 1978, the Kipps decided to settle down. After 10 years of service, Ronald left the Air Force to apply his engineering and business education in the trucking industry. Congress was deregulating the industry, creating opportunities for the most efficient carriers.
The Kipps moved to Green Bay, Wis., the headquarters for Schneider National, one of the nation's largest trucking companies. Schneider hired Kipp to reduce its operational costs and improve the company's competitive edge.
Kipp, who rose to become vice president of operations, initiated equipment changes and best practices for truck drivers that resulted in an average fuel savings of one mile per gallon across the company's entire fleet. In just the first year, the changes saved Schneider $10 million.
In 2003, the Kipps moved to the Minneapolis area where Ronald became vice president of operations at Transport America. There, he implemented similar cost-savings strategies before retiring in 2006.
"I really enjoyed using my education and experience to make a difference, whether it was in the Air Force or in private industry," Kipp said. "Now, we want to support other NDSU students who will have their own opportunities to find success and make a difference."