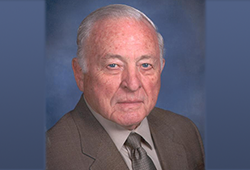 The son of a Nebraska sharecropper, Vernon Meyer returned home after serving in the U.S. Army during the Korean War to build his future.
After a successful academic year at a local college, Meyer began researching top universities throughout the Midwest in a quest to expand his education and career opportunities. His search, with support from the G.I. Bill, led him to North Dakota State University in 1956.
Captivated by Russia's launch of Sputnik 1 and the United States' growing space program, Meyer earned a degree in mechanical engineering and quickly landed a job with General Dynamics in San Diego, Calif.
"At NDSU, I really discovered my potential and the cold weather made it an excellent place to study," Meyer said with a chuckle. "They had a good engineering program and it really opened up a lot of opportunities for me."
Working in General Dynamics' Astronautics Division, Meyer helped design rocket launch systems that supported NASA's unmanned missions to Mars and the moon. The rocket systems, a prelude to the manned Apollo Space Program, were the first to be powered by a mix of hydrogen and oxygen and supported some of NASA's most important scientific missions.
Meyer's work at General Dynamics began a storied, 30-year career that included important contributions to the nation's space program, the development of cutting-edge military and commercial aircraft and major building projects with the U.S. Army Corps of Engineers.
Meyer said it was important to him to help others succeed as well. That's why he established the Vernon P. Meyer Mechanical Engineering Endowment as part of his estate plan. Meyer directed that the endowed fund be used to meet the greatest needs of NDSU's Department of Mechanical Engineering. The fund's uses include student scholarships, research support and to enhance student learning.
"As you get older, you realize that everything is a gift," Meyers said. "You get a deeper appreciation for the opportunities you've been given.
"NDSU gave me the opportunity for a good education and I wanted to do something to pass that on to others," he said. "In my will I have three children and NDSU and they are all treated the same. And my children are pleased with that."
Meyer has also given his time to NDSU students, returning to campus to share his engineering experiences.
"My main message was for them was not to get discouraged about taking classes that may seem like they will never use," Meyer said. "It gets their attention when you can give them examples that show them how they will use class materials that they never dreamed of using."
The experience Meyer gained at General Dynamics led to a job with Boeing in Seattle, where he helped design a supersonic commercial aircraft intended to compete with British Airway's Concorde. Boeing engineers designed a jet capable of reaching Mach 3, about three times the speed of sound, versus the Concorde's top speed of Mach 2. But Boeing scrapped the project for economic reasons before going into production. Meyer then went to work on the design of Boeing's 747, which entered service about a year later.
Meyer's engineering know-how also led him to Lockheed Martin and Grumman Corp. where he helped engineer several military aircraft, including the F-14 fighter jet, the C2 cargo plane and the A6A Intruder attack aircraft. Later in his career, Meyer accepted an offer at the U.S. Army Corps of Engineers, where he designed military aircraft hangars as well as other military and civil infrastructure projects.
"It was exciting work, but also very intense because we were always pushing to redefine state-of-the-art," Meyer said.