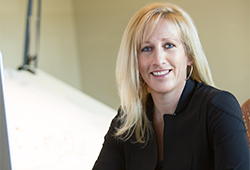 The stunning foothills overlooking California's Coachella Valley have served as Kristi Hanson's canvas for nearly 30 years.
Hanson, a 1987 graduate of North Dakota State University's Department of Architecture, has built a national reputation and business creating one-of-a-kind residential designs that capture jaw-dropping views and include every luxury.
In California's desert community of La Quinta, a playground for Hollywood stars and entrepreneurs, Hanson designed a 17,500-square-foot contemporary estate featuring a 3,000-gallon saltwater aquarium and floor-to-ceiling glass walls that open to the nearby mountain ranges.
Today, the architect's high-end custom homes and unique commercial projects can be found throughout southern California, Hawaii, Washington and other areas of the country.
Her Palm Desert-based firm, KHA Architects, and her innovative designs have been featured in leading architecture publications and some of the nation's largest newspapers. But when asked what work she's most proud of, Hanson's answer has nothing to do with her career and everything to do with her alma mater: North Dakota State University.
"I'm more proud of the work I do at NDSU, and giving back, than I am of my work as an architect," she said.
Hanson remains active at NDSU and supports the university in many ways. Hanson has funded scholarships for student athletes and for architecture students. She is a regular contributor to the university's Impact Fund, the Department of Architecture's Green Jacket Program and has established an endowed scholarship within the Department of Architecture.
Hanson created the endowment fund as part of her estate plan, but has already begun contributing to the fund so that she can see the impact of her philanthropy. Once fully funded, Hanson's blended gift will be a permanent source for student scholarships at NDSU.
"When you support students, you're helping make the world a better place," she said. "If you can give students an opportunity to go to school and not worry about how they are going to make it work financially, it makes their education all that much more valuable."
KHA Architects currently employs four NDSU graduates and has hired many others over the years. The firm also has sponsored opportunities for NDSU architecture students to learn about their profession in the field.
Hanson also gives her time to the university, serving as an NDSU Foundation trustee and on several advisory committees.
"There is so much energy and passion at NDSU," Hanson said. "It's rewarding to be part of that and it makes you want to give back."
Hanson said buildings have fascinated her for as long as she can remember.
While growing up in western North Dakota, it was nearly impossible for her to come across an interesting building without ducking inside for a closer look.
By the time she reached seventh grade, Hanson said her career path was already clear.
"I knew I wanted to be an architect," she said. "I'm not sure why, but buildings have always intrigued me."
Her calling didn't come without reservations from well-meaning family members who were concerned that the male-dominated profession might yield few opportunities.
Undeterred, the Williston High School graduate left for North Dakota State to pursue a degree in architecture.
Hanson said NDSU prepared her well for the highly competitive business of architectural design.
"There were great mentors who inspired you and instilled in you the belief that you can accomplish anything," she said. "But most importantly, NDSU teaches you how to think and solve problems."