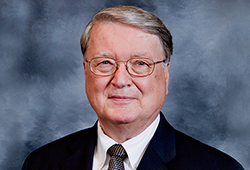 Growing up in Fargo, Richard's association with NDSU started at an early age. There were NDSU professors in his neighborhood that he got to know and the neighborhood kids would hang out at the barns at the AG College.

Richard was able to attend NDSU without incurring debt by living at home and working a part time job as a janitor at a local barbershop. He intended to major in History, but after getting a "C" in History and an "A" in English, he decided to pursue English instead. He graduated with a major in English and 2 minors in French and German. He still loved History and had so many credits that he was able to get his History major also, shortly after graduation.

Richard worked as a teaching assistant at NDSU for 2 years. He was working on his masters, but because there weren't many opportunities for assistantship or scholarships for graduate work, he decided to take a break from school. He accepted a position at the high school in Little Falls, MN. During this time, he finished his Masters, and was able to participate in a changing curriculum at the high school and design his own program. His goal was to get seniors to write as much as possible, to read as much as possible, and to be prepared for writing in college. He was able to work his entire career at the Little Falls High School.

While planning his estate, Richard was concerned about the amount of debt students have to take on these days, and was hoping to help. He has since set up a charitable gift annuity, and also gives an annual gift that is awarded to an English student. He recently learned more about our Heritage Society, and has documented his planned gift with NDSU to establish an endowment for English graduate level students.

NDSU prepared Richard for his career, with the help of professors that instilled great inspiration for the love of literature. He states, "The years spent at NDSU were some of my happiest times-they were magical!" He has memories of taking a class in the attic of Minard, and during his freshman year they didn't win a single football game. How times have changed!