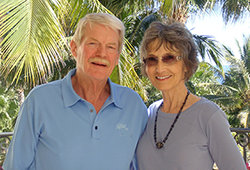 Bio. Info. - Jo Ann and Bob Skabo
Born and grew up in northwestern North Dakota. Both graduated from Grenora High School.
Jo Ann was first of six siblings to attend NDSU, receiving a B.S. in Home Economics Education. Bob completed his B.S. at Minot State University. Both taught in Mentor, MN for three years: Jo Ann -- home economics, Bob -- math, business, and coaching basketball and football.
They moved to Chicago where Bob attended the Illinois College of Optometry for his Doctor of Optometry degree. Jo Ann worked for CPC International as an abstractor of research studies.
Bob practiced optometry in DeKalb, IL until his retirement in 2011. Jo Ann is retired from the University of Illinois, where she was an Extension Educator in nutrition and wellness.
They continue to make their home in rural Shabbona, IL
"While doing some retirement/estate planning a few years ago, we decided to investigate charitable gift annuities as one option. We knew they provided tax advantages, but could also add supplemental income during our lifetimes. Fortuitously, about that time we were visited by Leo Ringey from the NDSU Foundation. We received some excellent information and counseling from the Foundation staff, and established our first gift annuity in 2005 with a transfer of real estate to NDSU. We have continued to add to our endowment with cash gifts."
The Jo Ann Garaas Skabo and Dr. Robert Skabo Endowed Fund was established to enhance the educational opportunities of students enrolled in the College of Arts, Humanities and Social Sciences at NDSU, and to encourage appreciation of the arts in the campus community at large through scholarships, exhibitions, visiting artists and other supportive endeavors.
"Why the arts? We believe involvement in and appreciation of the arts are essential elements in the well being of individuals and communities. Reduced public funding for these areas makes it ever more important for private support.
"Growing up, I was always drawing, but had no formal art training until attending NDSU, where I took my first art class with Miss Weesner. My eyes were opened to a whole new world. Though making a living as an artist was not a choice for me at that time, I continued to take classes whenever the opportunity was there. Finally, I jumped in and completed my Master of Fine Arts degree at Northern Illinois University twenty years later - a seed that was planted at NDSU." (Jo Ann)
"Living in in Illinois for more than 50 years has not erased our deep North Dakota roots. Our reconnection to NDSU has been a happy journey. (You could say Bob married into the Bison family.) We now make annual visits to campus for Foundation Board meetings and Homecoming activities. And, our trips to Texas for the championship football games have been beyond exciting. Go Bison!"