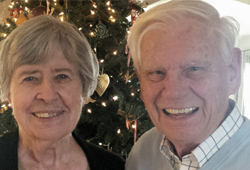 While attending North Dakota State University, Stan Elofson discovered a lifelong passion outside of his studies. Read the following article to learn more about how NDSU influenced Elofson and how the Fargo native and his wife, Nancy, are making a lasting difference in the lives of current and future NDSU students.
There are many ways to make a difference at NDSU. Planned gift strategies can help you increase income, reduce or eliminate capital gains exposure and offer current income tax deductions. Bequests are easy to create and can be completed as part of your will, trust or retirement plan. If you're interested in learning more about planned gift strategies in support of NDSU, call 701-231-6837 or email.
NDSU Music Inspires Elofsons to Fund Student Scholarships
After graduating from North Dakota State University, Stan Elofson enjoyed a successful career in Colorado's political arena, serving the state legislature as a nonpartisan advisor and research analyst for more than 30 years.
The Fargo native said his time at NDSU also cultivated an entirely different interest, one that he continues to support at the university today.
"I started going to concerts in the old Festival Hall," Elofson said. "I would sit in the balcony and listen to some of the finest violinists, singers, pianists and other musicians just a short distance away.
"There we saw some amazing performances," he said. "That old building wasn't much, but it had great acoustics and it's where I formed a real appreciation for music and for great musicians."
In 1985, Stan and his wife, Nancy, along with Stan's siblings, created the Stella B. Elofson Scholarship Fund. The endowment, named in honor of Stan's mother, serves as an ongoing source of financial support for NDSU students majoring in music.
Bryan Keidel, a senior music major, said the Stella B. Elofson Scholarship has helped him keep his student debt to a minimum and focus on his participation in the NDSU Wind Symphony.
"It's an incredible gift when you can graduate without having the full weight of student debt on your shoulders," he said. "I'm very grateful to the Elofson's and its great knowing that their scholarship will help other students."
Stan and Nancy have also established a second endowed scholarship fund in their name. The scholarship fund supports NDSU junior and senior music majors.
"It gives us a lot of satisfaction," Elofson said. "In these days of student debt and increased tuition, it makes us feel good to help students stay in college.
"The students we've been able to help have gone on to many careers," he said. "Some have become professional musicians and some are music teachers now. That means they can transfer their love and joy of music to another generation or two."
Every year since establishing the endowments with the NDSU Foundation and Alumni Association, the Elofsons have contributed additional funding to grow the endowments and increase their student support.
"We intend to continue making annual contributions," he said. "You don't have to do it all at once. By building it up over the years, we've been able to reach the endowment level we wanted to reach."
In 2018, the Elofsons also created an estate gift, designating a significant portion of an IRA account to further increase the future impact of the Stanley and Nancy Elofson Endowed Scholarship Fund.
"It was something we felt we could do and we really considered it an opportunity to make an even bigger difference for students for years to come," Elofson said.
Elofson graduated from NDSU in 1956, earning a bachelor's degree in education and social science. He taught history and government at Enderlin, N.D., High School for one year before leaving for the University of Kansas where he met Nancy and received his master's degree in political science.
In 1998, Elofson retired as assistant director of the Colorado Legislative Council, a state agency that prepares economic projections, fiscal notes for proposed legislation and other analysis in support of the state's legislative assembly. The Elofsons live in the Denver suburb of Lakewood and return to the NDSU campus nearly every year to meet with their scholarship recipients, faculty and to enjoy the university's performing arts.